Description
Listing is for one NEW Intex-Repair Kit for Inflatables-59632EP-NEW-Ships Free-Repair Tubes and Pools
Vinyl repair kit, includes 21 sqin vinyl sheet & 1/5 oz of vinyl cement. This product is easy of use. This product is highly durable. This product is manufactured in China.
UPC: 07825731467
Orders placed by 12:00 pm PST Monday through Friday will be shipped same day in the order of which it was received.
–
Please see the map below for estimated UPS transit times.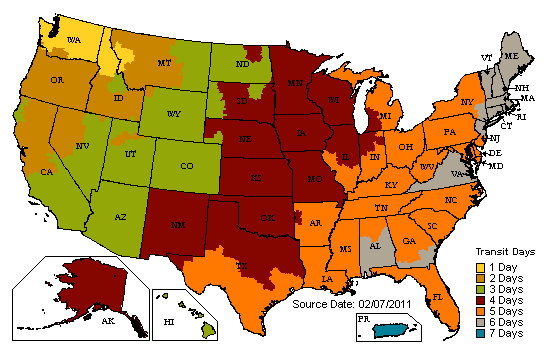 ---

INTERNATIONAL CUSTOMERS:
It is your responsibility as a buyer to know and accept any fees that are associated with International shipping. If you refuse a package on account of customs fees, Hooked on Toys (Hotsauctions) gets a bill to have our merchandise released from customs; any fee will be deducted from your refund amount, and any shipping paid may not be refunded.
FAQ's

Q. What one will have to I choose? UPS or USPS?
A. Whilst USPS shipping fees are in most cases higher than UPS, please consider that UPS has additional Entry Preparation Charges on top of the Customs Clearance, Duty & Taxes you will have to pay when you receive your purchase. For a complete list of UPS fees, go to:
http://www.ups.com/content/ca/en/shipping/cost/zones/customs_clearance.html
For an estimate on international fees (duty and VAT), go to:
http://www.dutycalculator.com/new-import-duty-and-tax-calculation/
Q. How much will this cost to ship?
A. Just click the "Shipping and Payments" tab next to the description tab just below the listing image; put in the quantity you desire and select your country. If it asks you to contact the seller, just send us a message! We do not make any profit on shipping and can provide a shipping quote for the actual amount it costs us.
We are only able to accept PayPal on eBay right now. Thank you for your understanding.
Welcome to Hooked On Toys! We have been in business since 1986. Our retail store is located in Wenatchee, Washington. We specialize in Fishing, Hunting, Archery, Firearms, Paintball, Outdoor Gear, Camping, Summer Inflatables, Puzzles, Games, Toys and so much more. An internet sales specialist can be reached Monday through Friday 9:00 am – 5:00 pm. Our contact number can be found on our eBay page. We accept returns for most items, but please contact us for approval; returns or exchanges can be approved up to 14 days after arrival. Please contact us immediately and we will be able to provide instructions on where to return your item(s). Return shipping is the responsibility of the buyer unless a misrepresentation by us was found. If not, original shipping may also be deducted from the refund.