Description
Kayak Boat Canoe Storage Cover UV-resistant Transport Water-resistant LT P4U6

The Kayak storage cover is for any individual in need of to keep their kayak clean and having a look excellent!
Features:
UV resistant, Water-resistant and anti-dust.
Long-term protection from damage caused on Kayak.
Roll and clip closure is adjustable for kayaks of 3.8m-4.1m length.
Easy to operate without the will of some other tools.
Specifications:
Color: Light blue
Subject matter: Oxford cloth
Item Length: 4.1m / 13.45ft
Package weight: 485g / 17.10oz
Package List:
1 * Kayak Storage Cover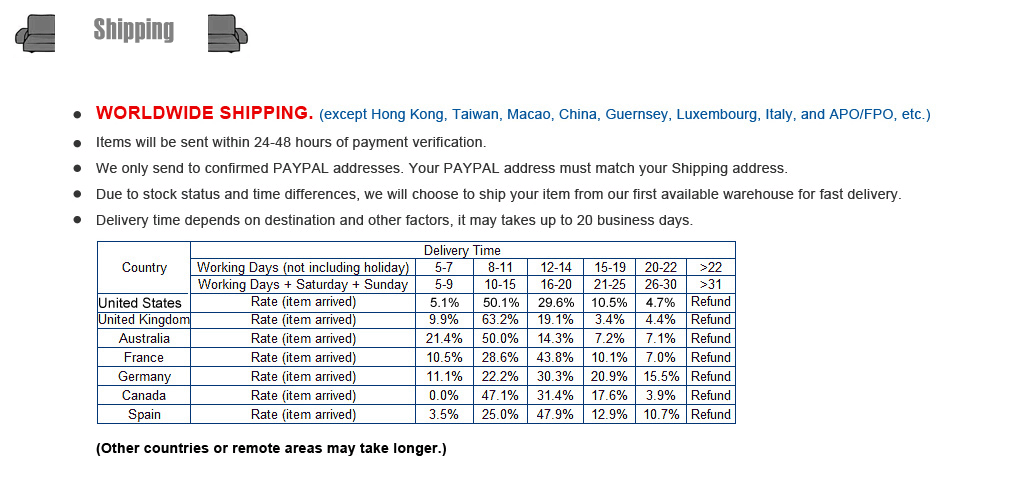 <span style="border-radius: 2px; text-indent: 20px; width: auto; padding: 0px 4px 0px 0px; text-align: center; font: bold 11px/20px " helvetica="" neue",helvetica,sans-serif;="" color:="" rgb(255,="" 255,="" 255);="" background:="" rgb(189,="" 8,="" 28)="" url("data:image="" svg+xml;base64,phn2zyb4bwxucz0iahr0cdovl3d3dy53my5vcmcvmjawmc9zdmciighlawdodd0imzbwecigd2lkdgg9ijmwchgiihzpzxdcb3g9ii0xic0xidmxidmxij48zz48cgf0acbkpsjnmjkundq5lde0ljy2mibdmjkundq5ldiyljcymiaymi44njgsmjkumju2ide0ljc1ldi5lji1nibdni42mzismjkumju2idaumduxldiyljcymiawlja1mswxnc42njigqzaumduxldyunjaxidyunjmyldaumdy3ide0ljc1ldaumdy3iemymi44njgsmc4wnjcgmjkundq5ldyunjaxidi5ljq0oswxnc42njiiigzpbgw9iinmzmyiihn0cm9rzt0ii2zmziigc3ryb2tllxdpzhropsixij48l3bhdgg+phbhdgggzd0itte0ljczmywxljy4nibdny41mtysms42odygms42njusny40otugms42njusmtqunjyyiemxljy2nswymc4xntkgns4xmdksmjquodu0idkuotcsmjyunzq0iem5ljg1niwyns43mtggos43ntmsmjqumtqzidewljaxniwymy4wmjigqzewlji1mywymi4wmsaxms41ndgsmtyuntcyidexlju0ocwxni41nzigqzexlju0ocwxni41nzigmteumtu3lde1ljc5nsaxms4xntcsmtqunjq2iemxms4xntcsmtiuodqyideyljixmswxms40otugmtmuntiyldexljq5nsbdmtqunjm3ldexljq5nsaxns4xnzusmtiumzi2ide1lje3nswxmy4zmjmgqze1lje3nswxnc40mzygmtqundyylde2ljegmtqumdkzlde3ljy0mybdmtmunzg1lde4ljkznsaxnc43ndusmtkuotg4ide2ljayocwxos45odggqze4ljm1mswxos45odggmjaumtm2lde3lju1niaymc4xmzysmtqumdq2iemymc4xmzysmtauotm5ide3ljg4ocw4ljc2nyaxnc42nzgsoc43njcgqzewljk1osw4ljc2nya4ljc3nywxms41mzygoc43nzcsmtqumzk4iem4ljc3nywxns41mtmgos4ymswxni43mdkgos43ndksmtcumzu5iem5ljg1niwxny40odggos44nzismtcunia5ljg0lde3ljczmsbdos43ndesmtgumtqxidkuntismtkumdizidkundc3lde5ljiwmybdos40miwxos40nca5lji4ocwxos40otegos4wncwxos4znzygqzcunda4lde4ljyymia2ljm4nywxni4yntigni4zodcsmtqumzq5iem2ljm4nywxmc4yntygos4zodmsni40otcgmtuumdiyldyundk3iemxos41ntusni40otcgmjmumdc4ldkunza1idizlja3ocwxmy45otegqzizlja3ocwxoc40njmgmjaumjm5ldiylja2miaxni4yotcsmjiumdyyiemxnc45nzmsmjiumdyyidezljcyocwyms4znzkgmtmumzayldiwlju3mibdmtmumzayldiwlju3miaxmi42ndcsmjmumdugmtiundg4ldizljy1nybdmtiumtkzldi0ljc4ncaxms4zotysmjyumtk2idewljg2mywyny4wntggqzeylja4niwyny40mzqgmtmumzg2ldi3ljyznyaxnc43mzmsmjcunjm3iemyms45nswyny42mzcgmjcuodaxldixljgyocayny44mdesmtqunjyyiemyny44mdesny40otugmjeuotusms42odygmtqunzmzldeunjg2iibmawxspsijymqwodfjij48l3bhdgg+pc9npjwvc3znpg="=&quot;)" no-repeat="" scroll="" 3px="" 50%="" 14px="" 14px;="" position:="" absolute;="" opacity:="" 1;="" z-index:="" 8675309;="" display:="" none;="" cursor:="" pointer;="" border:="" medium="" none;"="">Save