Description
SEA EAGLE PACKFISH 7 DELUXE PACKAGE PORTABLE INFLATABLE FISHING BOAT RAFT
PLEASE NOTE: THIS
MANUFACTURER FORCES US TO POST A MINIMUM ADVERTISED PRICE (MAP). THIS IS
SOMETHING ALL AUTHORIZED SEA EAGLE RETAILERS MUST DO WHICH IS HOW YOU KNOW YOUR
ARE MAKING YOUR PURCHASE FROM A LEGITIMATE DEALER WHO PLAYS BY THE RULES.
HOWEVER, YOU WILL ALSO NOTICE WE ARE ABLE TO ACCEPT BEST OFFERS. IF YOU LIKE
THE FACT YOU ARE PURCHASING FROM A LEGITIMATE DEALER WHO WILL PROVIDE ALL THE
SUPPORT AND MANUFACTURER CONTACT INFORMATION NECESSARY, SHOULD YOU NEED TO
UTILIZE SEA EAGLE'S 3-YEAR WARRANTY (AVAILABLE UPON WRITTEN REQUEST), FEEL FREE TO MAKE A 'BEST OFFER'. THAT BEING SAID, WE
CAN NOT EMPHASIZE ENOUGH THAT SELLING ON THE INTERNET IS NOT NEARLY AS
PROFITABLE AS YOU MIGHT THINK (NOT EVEN CLOSE). OUR MARGIN IS ALREADY RAZOR THIN AFTER PAYING EBAY AND PAYPAL THEIR FEES
BUT WE MAY ACCEPT A REASONABLE 'BEST OFFER' (LIKE ABOUT $15 – $25 OFF). THANK YOU FOR YOUR
THOUGHTFUL CONSIDERATION AND IF YOU HAVE ANY QUESTIONS, PLEASE SCROLL ALL THEY
WAY DOWN TO THE BOTTOM OF THIS LISTING AND CLICK 'ASK SELLER A QUESTION' OR
LOOK UP 'EVERYTHINGHOME, JAX FL'.
IF
INTERESTED IN A QUANTITY GREATER THAN WHAT YOU SEE AVAILABLE HERE, AT POSSIBLY
AN ADDITIONAL DISCOUNT, PLEASE EMAIL (ASK SELLER A QUESTION) SO WE CAN ADJUST
QUANTITIES. WE OFTEN DO NOT ADVERTISE THE ACTUAL TOTAL NUMBER OF AVAILABLE
UNITS.
AS A
FAMILY-OWNED E-COMMERCE RETAILER FOR MORE THAN 15 YEARS, WE'VE EARNED YOUR
TRUST.
PLEASE READ
ENTIRE DESCRIPTION
Is using this marketplace's
payment processing system too much of a hassle? No problem. Pay over the phone
using any major credit card! Best time to reach 'Everythinghome Inc
Jax, FL' is M-F, 9 AM – 5:30 PM, Eastern time. If we will be able to't answer, leave a
message. We'll call back as soon as we will be able to, usually within 12-24
business hours.
EVERYTHING YOU NEED
AT EVERYTHINGHOME…GREAT PRODUCTS…BEST SERVICE…FAIR PRICE. PURCHASE
ITEMS FROM E-COMMERCE RETAILERS THAT HAVE A PROVEN TRACK
RECORD. PLEASE CHECK OUR FEEDBACK AND WEIGH IT AGAINST OTHERS. WE HAVE OVER 30 YEARS OF BUSINESS EXPERIENCE,
OVER 15 YEARS OF INTERNET RETAIL EXPERIENCE AND FABULOUS CUSTOMER
FEEDBACK. WE'RE NOT SAYING WE'RE PERFECT BUT WE SURE TRY HARD TO MAKE YOU HAPPY
AND EARN YOUR LIFE-LONG LOYALTY!
BRAND NEW
FROM OUR WAREHOUSE TO YOU!
IF YOU WERE TO PURCHASE
EACH ITEM IN THIS PACKAGE SEPARATELY YOU WOULD PAY
: $627.00!
YOU ARE GETTING ONE SEA EAGLE PACKFISH 7 DELUXE PACKAGE PORTABLE INFLATABLE FISHING BOAT RAFT INCLUDING: The PackFish7™ Hull, Backpack PackFish7, DKS Seat Green, A42 Foot Pump, AB254 Oar Set, and Small Repair Kit as shown below. PLEASE SCROLL ALL THE WAY DOWN TO VIEW ADDITIONAL PHOTOS AND DETAILS.
About the PackFish7™
Sea Eagle PackFish7™ is a unique, ultralight, incredibly
portable, one man fishing boat that can be used two ways: (1) fished for
hours whilst sitting on the comfortable inflatable Deluxe Fishing Seat,
(2) standing with the wooden floorboard which provides stable and ample
standing area for both sight fishing and casting.
The hull weighs
only 21 lbs. and fully loaded with floorboard, oars and seat a mere 32
lbs. It goes anywhere, sets up in under 5 minutes and can even be worn
on your back! It's as simple as that! We call it the "grab and go
fishing boat!"
About the Frameless Fishing Series
Sea Eagle's Frameless Fishing Boats are roomy,
lightweight, ultra-portable, pack into a small bag, and can be stowed in
small spaces because they have no frames. They don't require a trailer
so you'll be able to carry them to the most remote, hard to reach locations where
fish hide most!
Great for lakes, rivers, bays, creeks or almost
any body of water. Sea Eagle Frameless Fishing Boats will take you where
you need to go and where most other boats wouldn't dare!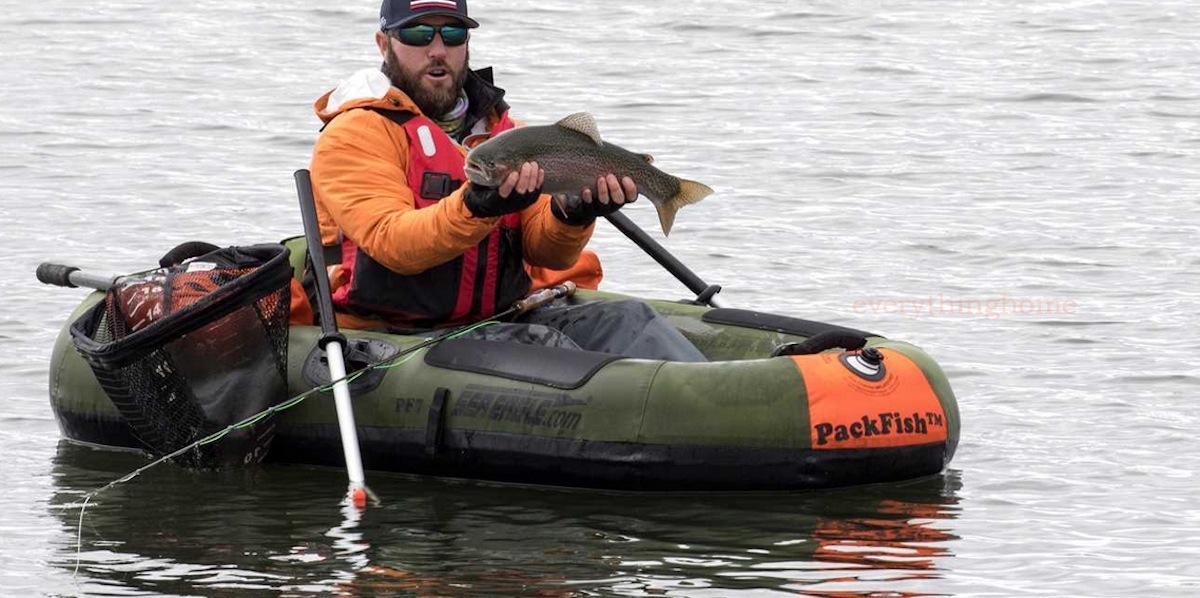 Large
air chambers allow these Frameless Fishing Boats to toughen an
incredible amount of weight yet draft as little as 4 inches of water.
Meaning you have access to shallower waters where heavier boats don't!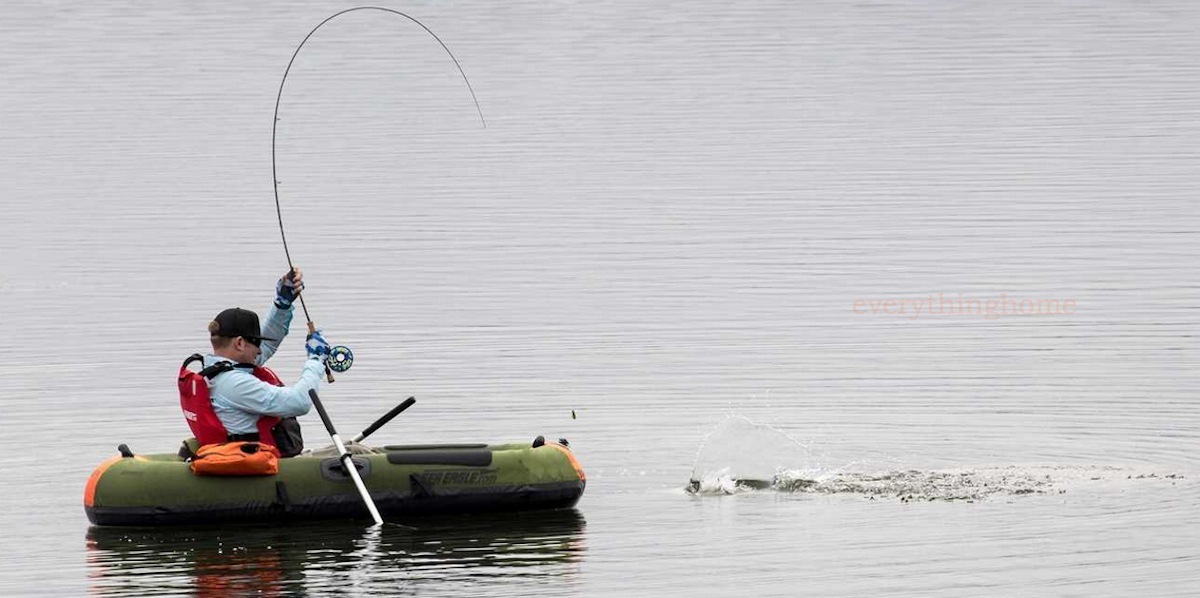 The
285fpb and STS10 are equipped with universal Scotty™ Mounts so you'll be able to
customize these two models as you wish! Outfit them with any Scotty
accessory you like. Sea Eagle offers an assortment of Scotty™
accessories to suit your needs. The PackFish 7 features 2 built in rod
holders to keep your rods secure.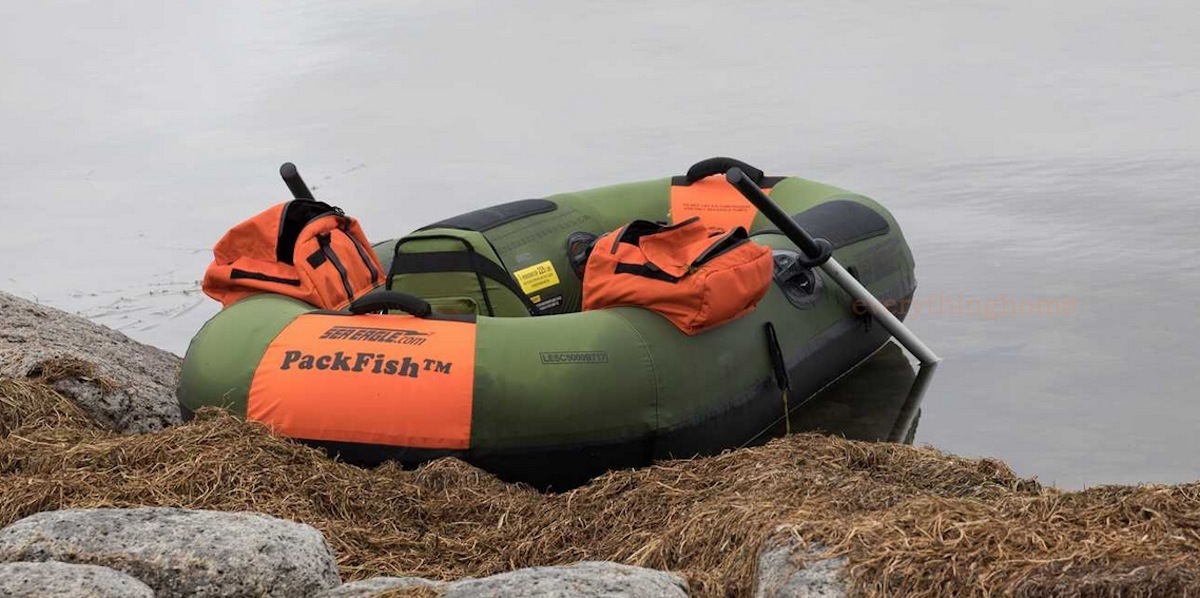 Specifications
Exterior

| | |
| --- | --- |
| | 7′ x 3'3″ |
| Interior | 4'6″ x 13″ |
| Hull Weight | 21 lbs. (hull only), 26 lbs. (w/ floorboard) |
| Load Capacity | 1 person or 300 lbs |
| Deflated | 5″ x 20″ x 20″ |
| Floorboard | 1/2″ thick x 3'6″ long x 15 3/4″ wide |
| Chambers | 2 (main & additional upper safety chamber) |
| Tube Diameter | 13″ |
| Bladder | 30 mil Polykrylar 2 chamber internal bladder |
| External Protective Cover | 840 Denier Nylon |
| External Protective Floor | 1000 Denier PVC coated Polyester |
| External Protective Cover Seams | Overlapped Double Stitched Industrial Strength Nylon Thread |
| Air Valves | 2 Deluxe One Way |
| Inflation & Assembly time | Less than 5 mins |
| Seam | Bladder: High-Frequency Welded, Cover: Double Stitched Industrial Strength Nylon Thread |
| Material | 30 mil Polykrylar, 840 Denier Nylon, 1000 Denier PVC coated Polyester |
| Engine Capacity | N/A |
| Floor | External Protective Floor: 1000 Denier PVC coated Polyester, Optional: Removable wooden floorboard |
| Inflation Pressure | 1.2 psi |



Certifications

Standard Features
NMMA Certified
Ultra lightweight
Hunter Green Color with high visibility orange accents
(2) 36″ Fish Rulers
(2) Built-in rod holders
(2) Pouch Pockets for tackle and tools includes cupholders
Built-in stow bag to conveniently stow your PackFish7™ backpack
Hands free oarlock attachment system so you'll be able to concentrate on fishing
30 mil Polykrylar double chamber internal bladder inside external protective sheath
Fully enclosed heavy duty fabric floor so you remain high and dry
(4) Carry handles
(4) Tracking Strips
Safety air chamber above main air chamber

Key Features:
Two Built-In 36″ Fish Rulers
The PackFish7™ has not one but two conveniently
located 36″ Fish Rulers! No more worrying about forgetting, losing,
dropping, rusting or the malfunctioning of one of your most important
fishing tools!
Two Built-In Industrial Strength Rod Holders
Two built-in, industrial strength rod holders
have been strategically placed for ease of use and trolling. Able to
withstand even the most rigorous abuse from the most demanding of
fishermen! Side hook and loop straps second as additional secure rod
holders and work great for getting rods conveniently out of the way when
not in use!
Two Pouch Pockets with Cup Holders for Tackle and Tools
Use the two conveniently located Pouch Pockets to
store your tackle and tools with our Quik-2-Zip™ double zipper system
for quick & easy access. Additional hook and loop straps keep your
favorite tools at the ready. And of course, a must have is your cup
holders.
Four Tracking Strips
Four tracking strips to assist you when fighting
those in point of fact big fish, increase stability and reduce being blown around
by the wind.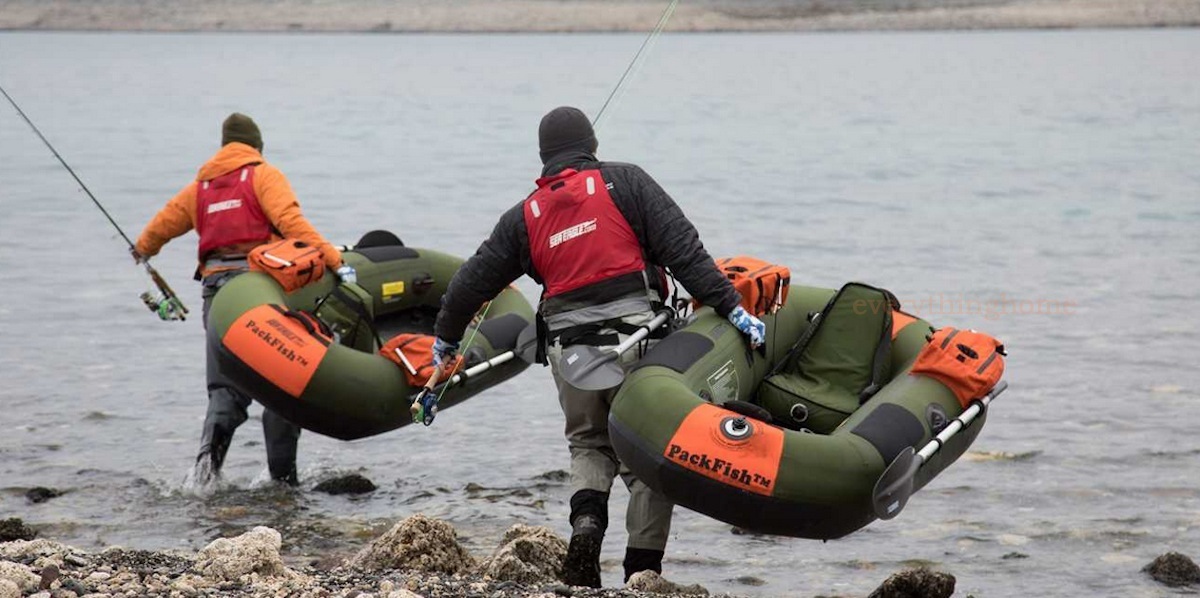 The perfect "grab and go" package! Featuring a green
Deluxe Inflatable Seat, oar set, foot pump, repair kit and PF7
Backpack.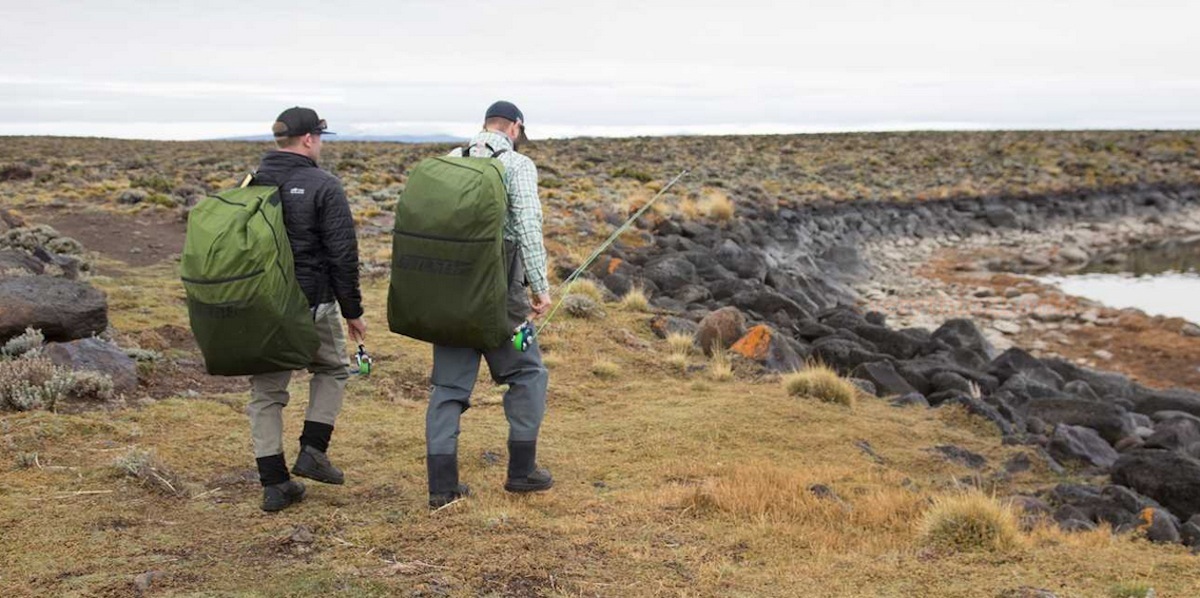 ***IMPORTANT INVENTORY NOTICE***
UNLESS
STATED OTHERWISE AT THE VERY BEGINNING OF THIS DESCRIPTION
, AT THE TIME OF THIS POSTING, THIS ITEM WAS
IN STOCK AND TAKES ABOUT 3-4 BUSINESS DAYS AFTER RECEIPT OF PAYMENT TO
PROCESS BEFORE LEAVING THE WAREHOUSE AND ANOTHER 2-5 BUSINESS DAYS BEFORE
IT ARRIVES AT YOUR DESTINATION.
HOWEVER, THIS
MARKETPLACE IS NOT OUR ONLY SALES VENUE. EVERY DAY WE SELL IN MANY DIFFERENT
MARKETPLACES (VIRTUAL AND NOT) AND VIA MANY DISTRIBUTION AND SALES CHANNELS AND
ON OCCASION, A SINGLE PURCHASE ORDER FROM ONE OF OUR OTHER SALES CHANNELS CAN
DEPLETE STOCK. IF BY CHANCE THIS HAPPENS AT THE TIME OF YOUR ORDER, WE WILL OF
COURSE, ASK IF YOU WOULD LIKE A 100% REFUND OR IF YOU WOULD LIKE TO HOLD OUT
FOR OUR NEXT ARRIVING BATCH OF STOCK FOR WHICH WE WILL PROVIDE AN ETA.
EITHER WAY, YOU MAY ALWAYS
CALL TOLL FREE ANYTIME WHILE YOUR ORDER IS PROCESSING OR ANYTIME AT ALL, IF YOU
HAVE ANY QUESTIONS. THANK YOU.
LOVE IT OR LEAVE IT
We at
everythinghome strive only for only positive customer feedback (nothing
negative, nothing neutral) and if a marketplace includes additional star
ratings, our goal is a 5-star rating in every seller category. Your happiness
is our happiness. And, we work hard to ensure your satisfaction.
Anything less than your positive feedback and 5 stars we believe a
failure on our part. If you have any concerns with your order, please tell
us before posting feedback and allow us the chance to genuinely earn your all
around satisfaction. Should making a decision to return an item for personal reasons
or buyer's remorse, contact us within 7 days of receipt. We'll refund all your
dough less our actual original outgoing shipping cost to get the item to you;
return shipping fees (return arrangements and costs must be made and paid for
by the buyer) and 20% product restock fee. Product must be returned completely
intact as it was originally packed, in its original packaging and with our
return authorization number marked clearly on return label only – not package.
No returns after 30 days, period. We cover costs for Damaged OR Defective
items, or parts of an item, or mis-shipments and they must be exchanged or
discarded for replacement of new parts or entire product if necessary
(decided by seller review of photos). Refusing to
allow us to replace parts or the entirety of an item, in lieu of
a return, would incur the same return costs to you as if you were returning a
non-defective or non-damaged item simply because of personal reasons or buyer's
remorse.
IMPORTANT SHIPPING INFORMATION
Delivery, including packaging, handling and insurance anywhere to the 48 Continental U.S. States for each item (or pair of items or multiple items if posting references an offer of more than one item) is FREE! Alaska, Hawaii and Puerto Rico delivery for additional $98 which WILL BE AN ADDITIONAL AMOUNT ADDED TO YOUR EBAY INVOICE. Sorry but shipping is not available to to APO or FPO VI or International Addresses. Thank you.
WE MUST HAVE 2 THINGS BEFORE WE CAN SHIP:
1.) A VERIFIED & CONFIRMED PAYPAL ADDRESSES IF USING PAYPAL.
2.) AN ACCURATE PHONE NUMBER FOR OUR SHIPPING AGENT.
ACCEPTANCE GUIDELINES
1.) INSPECT FOR VISIBLE BOX/PACKAGING DAMAGE.
2.) REJECT ONLY DAMAGED MERCHANDISE. ACCEPT ANY MERCHANDISE THAT IS NOT DAMAGED.
PAYMENT METHODS
WE ACCEPT E-CHECKS, BANK TRANSFERS
AND CREDIT CARDS THROUGH PAYPAL. WE ALSO ACCEPT ANY MAJOR CREDIT CARD
OVER-THE-PHONE. OUR TOLL FREE NUMBER CAN BE FOUND AFTER PLACING AN ORDER USING
EBAY'S 'ADVANCED' LINK AT THE TOP OF ANY EBAY PAGE TO THE RIGHT OF THE SEARCH
BAR. SIMPLY CLICK 'ADVANCED SEARCH', THEN IN THE LEFT COLUMN CLICK 'FIND
CONTACT INFORMATION, THEN COMPLETE INSTRUCTIONS. FL RESIDENTS MUST ADD 7% SALES
TAX. PAYMENT IS REQUIRED AT THE TIME YOUR ORDER IS PLACED. THANK YOU.
QUESTIONS?
EMAIL ANYTIME USING THE
'ASK SELLER A QUESTION' LINK BELOW OR LOOK UP 'EVERYTHINGHOME INC JAX FL',
WEEKDAYS, 9 AM – 5:30 PM, EASTERN TIME

PRIVACY NOTICE: We do not sell or rent our customer information to any outside party under any circumstances.